Permeable Pavement Design: Elements and Case Studies (AWI011218)
CEU:0.1
On-Demand Webinar | Online
Product
On-Demand Webinar
Keyword(s)
Construction;Materials;Transportation
Description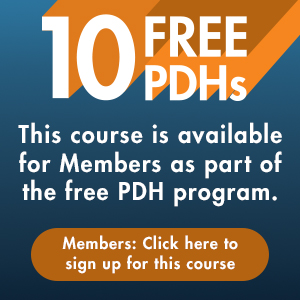 View Important Policies and System Requirements for this course.
This webinar was co-sponsored by ASCE's Transportation and Development Institute (T&DI) and ASCE Continuing Education
View all webinars related to pavement.
ASCE webinars are great for us. We are in a remote location and it is difficult to get quality training for our staff without much expense. Anonymous Attendee
Instructor: David K. Hein, P.Eng.
Course Length: 1 Hour
Purpose and Background
Storm water management is a key component of urban infrastructure design. Numerous agencies throughout the United States and Canada include permeable pavements as a key component of best management practices for stormwater management.
If properly designed and constructed, permeable pavements can help rainwater infiltrate soil, decrease urban heating, replenish groundwater and reduce overall storm water runoff. The construction of permeable pavement systems that can accommodate surface water runoff is gaining increasing attention through the Leadership in Energy and Environmental Design (LEED) program.
In a 1999 stormwater technology fact sheet on porous pavements, the U.S. Environmental Protection Agency (EPA) indicated that porous pavements traditionally have a failure rate of over 75 percent. Generally, failure is attributed to poor design, inadequate construction quality, improper treatment of the subgrade soils, and overloading of under designed pavements. Recent studies in the United States, United Kingdom, and Australia have shown the significant benefits of permeable pavements.
In the Fall of 2016, the ASCE T&DI Permeable Pavements Committee is expected to ask for public comment on a consensus standard for the design, construction and maintenance of permeable pavements. This webinar provides background on the key features of permeable asphalt, concrete and interlocking concrete block pavements along with guidance, design tools and methodologies to assist in designing pavements to accommodate hydrological and structural pavement design for municipal and parking area permeable pavements and compare equivalent structural designs.
Primary Discussion Topics
Introduction to porous asphalt, pervious concrete and permeable interlocking concrete pavements
Live case study that discusses parking lot and roadway design
Highlights from the soon to be released ASCE consensus standard
Permeable pavement design software
Learning Outcomes
Upon completion of this course, you will be able to:
Determine common design and construction features important to the performance of permeable pavements
Recognize the impact of permeable pavement design features
Communicate and promote sustainable pavement design and construction
Webinar Benefits
Understand the key input parameters for the successful design of permeable asphalt, concrete and interlocking concrete block pavements
Ability to design a permeable pavement for both structural and hydrologic capacity
Utilize previously impervious infrastructure to reduce the impact of peak stormwater runoff and improve stormwater quality
Assessment of Learning Outcomes
Students' achievement of the learning outcomes will be assessed via a short post-assessment (true-false, multiple choice and fill in the blank questions).
Intended Audience
Engineers involved in urban infrastructure design
Landscape architects
State/Provincial DOT and municipal agencies
Stormwater professionals
Webinar Outline
Subgrade preparation
Characterization of design traffic
Base and subbase materials
Design details for structural capacity
Design details for hydrological capacity
Construction guidance to ensure permeable pavement success
Key permeable pavement maintenance procedures
A live case study follows the presentation, discussing the design of a parking lot and a roadway using a software application developed specifically for permeable pavement design. Design details include:
Determination of design traffic
Analysis of subgrade support capability
Analysis of rainfall intensity
Site drainage analysis
Appropriate selection of base and subbase aggregates
Supplementary pavement surface and subsurface drainage
How to Earn your CEUs/PDHs and Receive Your Certificate of Completion

To receive your certificate of completion, you will need to complete a short on-line post-test and receive a passing score of 70% or higher within 1 year of purchasing the course.
How do I convert CEUs to PDHs?
1.0 CEU = 10 PDHs [Example: 0.1 CEU = 1 PDH]