Disaster Resilience of Infrastructure Systems: Quantification and Economic Valuation for Decision and Policy Making (AWI060917)
CEU:0.2
On-Demand Webinar | Online
Product
On-Demand Webinar
Keyword(s)
Environmental;Infrastructure;Management and Practice
Description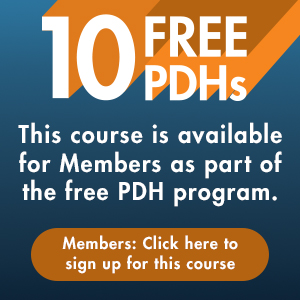 View Important Policies and System Requirements for this course.

INSTRUCTOR: Bilal M. Ayyub, Ph.D., P.E., Dist.M.ASCE
Course Length: 90 minutes

Sponsored by ASCE Continuing Education and the Infrastructure Resilience Division.

Purpose and Background
Natural disasters in 2011 alone resulted in $366 billion (2011 US$) in direct damages and 29,782 fatalities worldwide. Storms and floods accounted for up to 70% of the 302 natural disasters worldwide, with earthquakes producing the greatest number of fatalities. Managing these risks and others rationally requires an appropriate definition of resilience and associated metrics. This webinar provides a resilience definition that meets a set of requirements with clear relationships to reliability and risk as key relevant metrics. Such metrics provide a sound basis for the development of effective decision- and policy-making methods for multi-hazard environments for various system types including lifeline, environmental, financial, etc. systems. The webinar also examines recovery, with its classifications based on level, spatial, and temporal considerations. Three case studies are used to gain insights to help define recovery profiles. The webinar also discusses the economics of resilience.
Primary Discussion Topics
Background: risk landscape

Resilience definitions and measurement science of resilience

Practical resilience models and examples

Recovery and its profiles

Economics of resilience
Learning Outcomes
Upon completion of this course, you will be able to:
Define and measure resilience of infrastructure systems

Compute resilience with practical examples

Describe recovery and its profiles

Manage resilience
Webinar Benefits
Discuss the meaning of resilience

Describe how to quantify resilience

Find out how to manage resilience

Develop an understanding of applications and benefits
Webinar Outline
Background: risk landscape

Resilience definitions

Measurement science of resilience

Resilience models

Mathematical framework

Practical model

Resilience example

Recovery and its profiles

Concluding remarks
Assessment of Learning Outcomes
Students' achievement of the learning outcomes will be assessed via a short post-assessment (true-false, multiple choice and fill in the blank questions).
Intended Audience
Civil engineers of all specialties: structures, geotech, water resources, construction, etc.

Researchers from academia, national labs, etc.

Graduate students

Public agency engineers

Emergency planners
How to Earn your CEUs/PDHs and Receive Your Certificate of Completion

To receive your certificate of completion, you will need to complete a short on-line post-test and receive a passing score of 70% or higher within 1 year of purchasing the course.
How do I convert CEUs to PDHs?
1.0 CEU = 10 PDHs [Example: 0.1 CEU = 1 PDH]