<< Back
Renovation of Slabs on Grade (AWI102610)
CEU:0.2
On-Demand Webinar | Online
Product
On-Demand Webinar
Keyword(s)
Construction, Materials, Structural
Description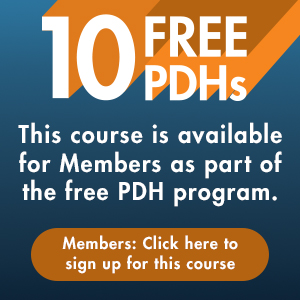 View Important System Requirements for running this course.
Instructor Information:
Alexander Newman, P.E., F.ASCE
Course Length:
2 Hours
This webinar was co-sponsored by ASCE'sStructural Engineering Institute and ASCE Continuing Education
Purpose and Background
Slabs on grade are among the few structural elements that are exposed to the owner's eye. It is only natural that any defect or perceived problem tends to be noticed and brought to the engineer's attention. However, many problems in floors on ground are related to concrete and soil performance rather than design, and repairing them is not always easy.
The webinar provides an overview of typical problems in slabs on grade, such as settlement or heave, damage caused by environmental factors, structural failure, cracking, curling, joint deterioration, and delaminating finishes. For each problem, the instructor outlines the effective yet economical methods of detection and renovation. In some cases, slab replacement is the best option, and the webinar covers proven design details for this task.
Upon completion of this course, you will be able to:
Examine problems of slabs on grade and methods of their repair

Discuss practical methods of renovating settled and heaved slabs

Identify various kinds of slab cracks and surface defects and the best ways of repairing them

Explore the issue of slab repair vs. replacement or overlay
Assessment of Learning Outcomes
Students' achievement of the learning outcomes will be assessed via a short post-assessment (true-false, multiple choice and fill in the blank questions).
Intended Audience
Structural and civil engineers, architects, facility managers, and building officials seeking to broaden their knowledge of renovating slabs on grade will benefit from this webinar. There are no calculations involved, and those who are not engineers will not be overwhelmed, because the instruction is kept enjoyable, practical, and easy to follow.
Webinar Outline
Overview of common problems in slabs on grade
Settlement and heave
Various types of cracks and methods of their repair
Surface defects: scaling, delamination, popouts
Curling
Joint deterioration
Delaminating finishes and other moisture-related problems
Various surface treatments and methods of their repair
Slab replacement
How to Earn your CEUs/PDHs and Receive Your Certificate of Completion

To receive your certificate of completion, you will need to complete a short on-line post-test and receive a passing score of 70% or higher within 1 year of purchasing the course.
How do I convert CEUs to PDHs?
1.0 CEU = 10 PDHs [Example: 0.1 CEU = 1 PDH]