<< Back
What Works for Traffic Calming and What Doesn't - An Interactive Approach to Identifying Best Practices (AWI032511)
CEU:0.2
On-Demand Webinar | Online
Product
On-Demand Webinar
Keyword(s)
Transportation
Description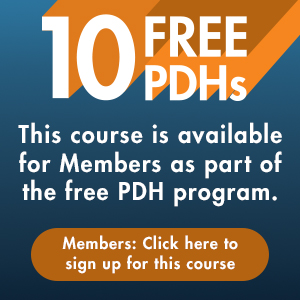 View Important System Requirements for viewing this course.INSTRUCTOR:
Nazir Lalani, P.E., M.ASCE
Course Length:
1.5 Hours
Sponsored by ASCE'sTransportation & Development Institute and ASCE Continuing Education
"All done very well, and a valuable source of information for future calming projects." Anonymous Attendee
Purpose and Background
Although many agencies have been using traffic calming strategies for many years, the results have been mixed. There is now a collective experience about the various treatments that have become part of the traffic calming toolbox. This webinar will be presenting information on what the current thinking is in the transportation profession about what works and what does not. This webinar is about what works in traffic calming and what does not. This webinar focuses on the use of speed lumps rather than speed humps as well as horizontal rather than vertical deflection. It also discusses the importance of minimizing impacts to emergency response times and the design parameters that are best suited to meet the needs of local agency fire departments.
The webinar's focus will be primarily on presenting data relating to various aspects of traffic calming including how to minimize impacts to emergency response equipment and tort liability exposure based on the actual experience of public agencies. The presenter will discuss in more detail speed lumps/speed cushions and why more agencies prefer these over the traditional speed hump. Some recent examples of what can go wrong will be illustrated and how these can be avoided by using the tools already available in the Manual of Uniform Traffic Control Devices.

Primary Topics of Discussion
What makes traffic calming installations most effective
Comparing speed lumps to speed humps and other treatments
The benefits of using horizontal rather than vertical deflection
What is important to emergency response personnel
What can go wrong with new installations and how to avoid such problems
Learning Outcomes
Upon completion of this course, you will be able to:
Determine the most effective traffic calming installations
Discuss what works for emergency response personnel
Identify where things can go wrong and what to do about it
Webinar Benefits
Gain improved understanding traffic calming programs
Access information about the design guidelines currently available
Improved awareness of the pitfalls of some traffic calming processes
Understanding traffic calming construction costs
Assessment of Learning Outcomes
Students' achievement of the learning outcomes will be assessed via a short post-assessment (true-false, multiple choice and fill in the blank questions).
Intended Audience
Transportation engineers/planners
Highway designers for all types of facilities
Government officials
Webinar Outline
Traffic calming – lumps versus humps
Processes that work
Signing and striping options
Engineering and aesthetics
Impacts to emergency response vehicles
Maintenance practices
Construction costs
Measured results
Tort Liability
When poor designs can create a backlash and crashes
Technical resources
How to Earn your CEUs/PDHs and Receive Your Certificate of Completion

To receive your certificate of completion, you will need to complete a short on-line post-test and receive a passing score of 70% or higher within 1 year of purchasing the course.
How do I convert CEUs to PDHs?
1.0 CEU = 10 PDHs [Example: 0.1 CEU = 1 PDH]