<< Back
Structural Building Condition Surveys: Looking for Trouble (AWI012612)
CEU:0.1
On-Demand Webinar | Online
Product
On-Demand Webinar
Keyword(s)
Materials, Structural
Description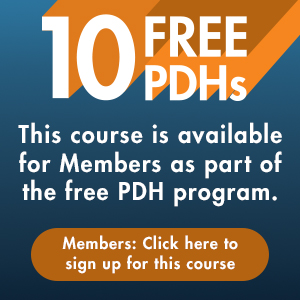 View Important Policies and System Requirements for this course.
This webinar was co-sponsored by ASCE's Structural Engineering Institute (SEI) and ASCE Continuing Education
Instructor: James A. D'Aloisio, P.E., SECB, LEED AP, BD&C
Course Length: 1 Hour
Purpose and Background
Hidden conditions of compromised structural integrity exist in some buildings. Some of these conditions reveal themselves in sudden and catastrophic failures, some are discovered and addressed prior to such an event, while some remain undetected, creating the potential for some future unfortunate event to occur. These problems can be caused by design error, poor material or system choices, construction flaw or defect, inappropriate modification, environmental deterioration, lack of maintenance, or a combination of the above.
This webinar is a collection of over thirty brief stories about structural building problems. Each of them were either discovered through a condition review by the author, or identified by the author after a failure event. At the end, we'll present recommendations for when building reviews by a senior structural engineer should be performed. By then, the reasons for doing a review should be obvious – since human beings design and construct buildings, some degree of human error should be assumed
Learning Outcomes
Upon completion of this course, you will be able to:
Become familiar with a variety of conditions that can cause structural problems in buildings

Review common failures of steel joists, wood trusses, and basement walls

Gain experience in discerning when observed distress may indicate a structural problem
Seminar Benefits
Discover how some building flaws can be minimized by good design practice

Understand how structural problems can be introduced inadvertently by facility operators

Realize the importance of a careful structural inspection program during construction

Learn structural weaknesses and limitations of some common building systems

Gain insight into what to look for in a structural condition review

Follow a "cause and effect" process of identifying adverse structural conditions

Realize the role of good communication in minimizing building problems
Assessment of Learning Outcomes
Students' achievement of the learning outcomes will be assessed via a short post-assessment (true-false, multiple choice and fill in the blank questions).
Intended Audience
Structural engineers, primarily those who design, analyze, alter, and review buildings will benefit from this webinar.
Seminar Outline
Introduction

Roofs and overhead elements

Gymnasiums and large spaces

Columns and floors

Basements and crawlspaces

Other

When to conduct a structural review
How to Earn your CEUs/PDHs and Receive Your Certificate of Completion
To receive your certificate of completion, you will need to complete a short on-line post-test and receive a passing score of 70% or higher within 1 year of purchasing the course.
How do I convert CEUs to PDHs?
1.0 CEU = 10 PDHs [Example: 0.1 CEU = 1 PDH]