A Data Base and Recommendation on 400 Failed MSE Walls with Geosynthetic Reinforcement (AWI041222)
CEU:0.2
On-Demand Webinar | Online
Product
On-Demand Webinar
Keyword(s)
Construction Engineering and Management; Geotechnical Engineering; Structural Engineering
Description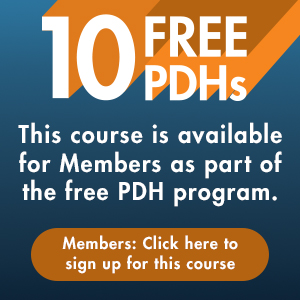 View Important Policies and System Requirements for this course.
Instructor: George R. Koerner, Ph.D., P.E. & CQA
Course Length: 90 minutes
Purpose and Background
This webinar sheds light on the large number (400 to date) of excessive deformation and/or actual collapses of MSE walls with geotextile or geogrid reinforcement. While the situation is indeed worldwide, most of the issues are experienced within the U.S. private sector. This webinar quantifies 10 specific items and details them accordingly. It presents four main design and constructions issues. It examines failure causes and their commonality components (63% are water related). It also addresses major design and construction issues.
Primary Discussion Topics
Data on 400 quite similar failures (estimated to be about 8% of the total worldwide failures)

Bring attention to this serious situation with respect to geotechnical and geosynthetic engineering communities

Four main design and construction issues which are felt to be greatly contributing to the failures

Use of fine-grained silts and/or clay backfill soils

Poor compaction of these fine-grained soils

Need for removal of internal drainage and piping systems

Need for proper surface and adjacent water control
Benefits and Learning Outcomes
Upon completion of this course, you will be able to:
Recognize areas of concern insofar as design is concerned

Identify how, when and where these failures have occurred

Explain the sources of water which is common to these failures

Describe specific aspects of these walls which have failed

Illustrate proper design procedures to avert failures

Prepare plans and specifications to avoid such incidences in the future
Assessment of Learning Outcomes
Achievement of the learning outcomes will be assessed through a short post-test (true-false, multiple choice and fill in the blank questions).
Who Should Attend?
Reinforced MSE wall and slope design engineers

General civil, geotechnical and geosynthetic consulting engineers

Geotextile and geogrid manufacturers and distributors

Private property developers and architects

Permitting engineers from municipal districts and townships

Contractors and installers of these systems

Academic and research groups

Insurance companies and attorneys
Outline
Introduction and background

Identification of the two main failure classifications

Main statistical findings from 400 failures

Major design and construction issues

Summary comments and recommendations
How to Earn your CEUs/PDHs and Receive Your Certificate of Completion
This course is worth .2 CEUs/2 PDHs. To receive your certificate of completion, you will need to complete a short on-line post-test and receive a passing score of 70% or higher within 365 days of the course purchase.