An Introduction to Designing with Fiber-Reinforced Polymer (FRP) Composites for Civil and Environmental Engineers (AWI040422)
CEU:0.2
On-Demand Webinar | Online
Product
On-Demand Webinar
Keyword(s)
Construction Engineering and Management; Environmental Engineering; Geotechnical Engineering;Geotechnical Engineering; Materials; Transportation
Description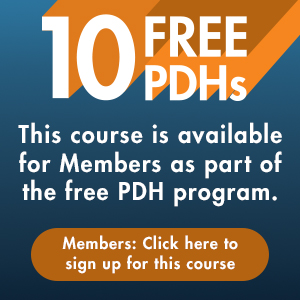 View Important Policies and System Requirements for this course.
INSTRUCTORS:
Dayakar Penumadu, Ph.D., M.ASCE
Bill Davids, Ph.D., P.E.
Francisco De Caso, Ph.D.
Moderator:
Joseph R. Fox, Ph.D., M.ASCE
Course Length: 90 minutes
Purpose and Background
Fiber-reinforced polymer (FRP) composites have been a material of choice in aerospace and marine applications and in the past decades have seen increasing implementation in automotive and infrastructure applications. This webinar introduces materials (fibers and resins) and composite solutions (rebars and laminates), provides an overview on the basic mechanics of these solutions, and provides practical civil infrastructure examples using case studies involving the design of composite bridges, sheet piles for geotechnical infrastructure, structures in harsh environments such as cooling water towers, strengthening and repair of aging infrastructure, and seismic applications for wrapping columns. References to existing design guides and specifications will be provided, while efforts underway to address development of acceptable safety factors for design codes will be addressed. Instructors for the class will be Dr. Dayakar Penumadu from University of Tennessee, Dr. Bill Davids from University of Maine, and Dr. Francisco De Caso from University of Miami.
Benefits and Learning Outcomes
Upon completion of this course, you will be able to:
Describe a Fiber-Reinforced Polymer (FRP) composite and understand its anisotropic properties.

Explain the properties and performance of FRP composites and the benefits they have to offer for the design, construction and repair of civil & transportation infrastructure.

Identify and apply existing standards and design guidelines for FRP composites and concrete reinforced with FRP rebar.

Describe specific case studies which demonstrate how FRP composites are being designed and used to improve our nation's infrastructure.
Assessment of Learning Outcomes
Achievement of the learning outcomes by attendees will be assessed through a short post-test (true-false, multiple choice and fill in the blank questions).
Who Should Attend?
Structural Engineers

Geotechnical Engineers

Environmental and Water Resources Engineers

Construction Engineers

Transportation Engineers
Outline
Introduction to the materials, processing, and properties of FRP composites

Anisotropy and laminate mechanics

Design and safety factors

Case studies

Cost considerations

Sustainability considerations

Q & A
How to Earn your CEUs/PDHs and Receive Your Certificate of Completion
This course is worth .2 CEUs/2 PDHs. To receive your certificate of completion, you will need to complete a short on-line post-test and receive a passing score of 70% or higher within 365 days of the course purchase.