Ship/Tow Simulation of Navigation Design Studies: Interpreting U.S. Army Corps of Engineers Requirements (AWI120519)
CEU:0.1
On-Demand Webinar | Online
Product
On-Demand Webinar
Keyword(s)
Coasts, Oceans, Ports and Rivers;Hydraulics and Water Resources
Description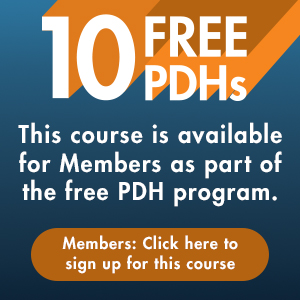 View Important Policies and System Requirements for this course.
Sponsored by ASCE Continuing Education and the Coasts, Oceans, Ports and Rivers Institute (COPRI).
INSTRUCTOR: Dennis W. Webb, P.E. D.NE
Course Length: 1 hour
Purpose and Background
The U.S. Army Corps of Engineers (USACE) requires the inclusion of a ship or tow simulation study for channel improvement projects unless omission of the investigation is approved by USACE Headquarters. This webinar discusses the simulation requirement, waivers, application of simulator studies in both Feasibility and Pre-Construction Engineering and Design (PED), and simulation studies conducted by the USACE simulator or other facilities. It also addresses conducting the studies as work-in-kind.
Primary Discussion Topics
USACE requirements for ship simulation studies

Ship simulation waiver requests

USACE requirements for ship simulation studies conducted at non-USACE facilities

Performing simulator studies as work-in-kind

Pitfalls to avoid in preparing for a simulator study
Learning Outcomes
Upon completion of this course, you will be able to:
Discuss why ship/tow simulation is required

Recognize USACE oversight for simulator studies conducted at non-USACE facilities

Identify the various components of ship/tow simulation

Discover benefits of simulation screening during the Feasibility Phase of a project
Webinar Benefits
Understand how the USACE simulation requirements apply to navigation studies

Learn the basic components of a ship simulation study

Evaluate the pros and cons of conducted the simulations at a non-USACE simulator

Avoid the expense of having to redo simulator studies conducted without USACE involvement

Learn the importance of applying at least some simulation technology during Feasibility phase

Avoid some basic simulation pitfalls.

Learn how to properly request a waiver for simulation
Assessment of Learning Outcomes
Students' achievement of the learning outcomes will be assessed via a short post-assessment (true-false, multiple choice and fill in the blank questions).
Intended Audience
Port engineers

USACE engineers involved with harbor improvement projects

Port authority administrators

Economists involved with USACE harbor improvement projects
Webinar Outline
Present and discuss pertinent USACE Engineering regulations.

Discuss the basic concept of real-time ship simulation.

Discuss the use of real-time ship simulation as an engineering model.

Discuss the various groups that should be included for simulation studies

Discuss the different modeling efforts that are a part of most simulator studies.

Discuss simulation waivers

Discuss use of simulation during Feasibility as a screening tool for the Tentatively Selected Plan (TSP)

Discuss final simulation during PED.

Discuss the use of non-USACE simulators and the required USACE oversight

Discuss Cooperative Research and Engineering Development Agreements (CREDA) and how the sponsor can fund the USACE simulator as Work-In-Kind

Discuss some basic pitfalls to avoid when conducting a simulator study.
How to Earn your CEUs/PDHs and Receive Your Certificate of Completion

To receive your certificate of completion, you will need to complete a short on-line post-test and receive a passing score of 70% or higher within 1 year of purchasing the course.
How do I convert CEUs to PDHs?
1.0 CEU = 10 PDHs [Example: 0.1 CEU = 1 PDH]