Engineering Judgment: Low-Rise Building Design and Detailing (AWI092619)
CEU:0.2
On-Demand Webinar | Online
Product
On-Demand Webinar
Description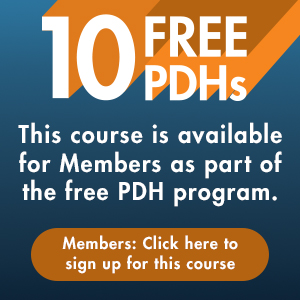 View Important Policies and System Requirements for this course.
Sponsored by ASCE Continuing Education and the Structural Engineering Institute (SEI).

INSTRUCTOR: Nicholas Lutzweiler, P.E., S.E., M.ASCE
Course Length: 90 minutes
Purpose and Background
Nearly all non-residential buildings in the country are considered low-rise buildings. From retail spaces to industrial spaces to office buildings, these buildings make up a large share of the construction market. Understanding how to design and detail common examples of them is an important part of a structural engineer's knowledge base. This webinar shows real details from existing low-rise projects, while at the same time explaining a design approach that can be applied to any and all types of low-rise construction. From the roof to the foundation, it has you covered.
Primary Discussion Topics
Big picture concepts of working on low-rise construction
Getting design loads and a structural system selected
Designing/detailing roof systems
Designing/detailing floor systems
Designing/detailing foundation systems
Learning Objectives
Upon completion of this course, you will be able to:
Discuss how to look at a low-rise project
Identify how to apply the building code to low-rise projects
Produce efficient and effective details for use in construction
Describe design approaches that can guide you through a low-rise process
Determine methods for designing roofs, floors, and foundations
Webinar Benefits
Learn how to start out on the right foot early in a low-rise project
See how specific details can be created that help in design and construction
Understand a design process that works for nearly all low-rise building projects
Appreciate how to apply engineering judgment to low-rise building projects
Examine and understand real-world low-rise roof, floor, and foundation framing details
Assessment of Learning Outcomes
Students' achievement of the learning outcomes will be assessed via a short post-assessment (true-false, multiple choice and fill in the blank questions).
Intended Audience
Structural engineers
Civil engineers
Architects
Building officials
Webinar Outline
Introduction to low-rise construction

What is it
30,000-foot view
Starting out on the right foot

Code issues related to low-rise construction

Gravity loads
Wind loads
Seismic loads
This is not in ASCE 7 type loads

Global design process
Roof framing design

Design of roof framing
Details of roof framing

Floor framing design

Design of floor framing
oetails of floor framing

Foundation design

Design of foundations
Detailing of foundations

Overall approach and summary
Conclusion/questions
How to Earn your CEUs/PDHs and Receive Your Certificate of Completion

To receive your certificate of completion, you will need to complete a short on-line post-test and receive a passing score of 70% or higher within 1 year of purchasing the course.
How do I convert CEUs to PDHs?
1.0 CEU = 10 PDHs [Example: 0.1 CEU = 1 PDH]