Geo-Structural Investigation of Existing Structures (AWI092019)
CEU:0.2
On-Demand Webinar | Online
Product
On-Demand Webinar
Description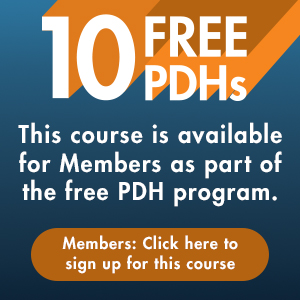 View Important Policies and System Requirements for this course.

Sponsored by ASCE Continuing Education and the Geo-Institute (G-I).
INSTRUCTOR: Michael J. Byle, P.E., D.GE, F.ASCE
Course Length: 90 minutes

Purpose and Background
It frequently becomes necessary to conduct investigations of existing foundations and structures due expansion, modernization, restoration and adjacent construction. For newer construction, plans may be available, but for older structures that is often not the case. Where there is limited or little information, investigations must be done to assess the nature and condition of structures for underpinning, condition assessment or reuse. This webinar presents strategies and tools useful in investigation of geo-structures such as foundations, retaining walls and other buried structures.
Proper planning of and execution of investigations is necessary for success. Proper planning and investigation require knowing construction methods and materials that may have been used in the original construction and assessment of configurations that might be expected. Understanding of available investigative tools is also essential. This webinar provides strategies and examples of geo-structural investigations for a variety of structures.
Primary Discussion Topics
Investigation concepts

Consideration of historical construction practices

Overcoming access limitations

Developing your investigation toolkit

Integration and interpretation of data from multiple sources

Examples
Learning Objectives
Upon completion of this course, you will be able to:
Explain the essential elements of a successful geo-structural investigation

Identify the key factors in selecting investigation tools

Develop an understanding of the interaction and interpretation of different data sources for geo-structural evaluation
Webinar Benefits
Examine the possibilities for understanding old structures

Gain exposure to new strategies for investigation planning

Learn how to assess geo-structures using comprehensive data evaluation

Develop assessment strategies that can avoid unnecessary demolition and replacement of potentially useful structures

Learn about new investigative tools

Webinar Outline
Basis and need for geo-structural investigations
Historical considerations for geo-structural construction
Classical investigation tools
Advanced investigation tools
Direct vs. indirect assessment
Adaptable investigation planning
Integration and interpretation of data
Example cases
Assessment of Learning Outcomes
Students' achievement of the learning outcomes will be assessed via a short post-assessment (true-false, multiple choice and fill in the blank questions).
Intended Audience
Geotechnical engineering consultants
Civil engineers
Geotechnical contractors
Site development professionals
Engineering geologists
Structural engineers
General contractors
How to Earn your CEUs/PDHs and Receive Your Certificate of Completion

To receive your certificate of completion, you will need to complete a short on-line post-test and receive a passing score of 70% or higher within 1 year of purchasing the course.
How do I convert CEUs to PDHs?
1.0 CEU = 10 PDHs [Example: 0.1 CEU = 1 PDH]