Target Zero Injuries - Developing a Comprehensive Safety Program for Engineers and Constructors (AWI120418)
CEU:0.2
On-Demand Webinar | Online
Product
On-Demand Webinar
Keyword(s)
Construction;Structural
Description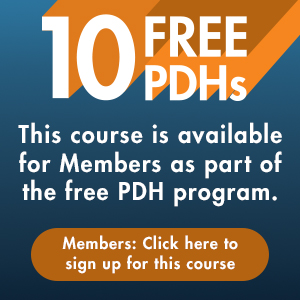 View Important Policies and System Requirements for this course.
INSTRUCTORS:
John Gambatese, Ph.D.
Wayne Crew, P.E.

Sponsored by ASCE Continuing Education and the Construction Institute (CI).
Course Length: 90 minutes
Purpose and Background
The construction industry has made great strides to improve safety on job sites, yet continues to experience a large and disproportionate number of worker injuries and fatalities compared to other work industries. As the industry looks for ways to improve construction site safety, attention is being focused on those practices, implemented both prior to and during construction, that have been shown to benefit safety. In addition to concentrated safety efforts during construction, current safety management knowledge and concepts indicate a need to start addressing safety during planning and design. As a result, both engineers and constructors have a role in safety. Hazard identification along with risk assessment and mitigation play a big part in injury and fatality prevention. Developing an overarching, comprehensive safety program for a project that integrates both design and construction requires forethought and planning. Using the hierarchy of controls as a starting point, this webinar presents an overview of recommended practices for such a program that takes advantage of both design and construction to promote safe construction sites.
Primary Discussion Topics
Current safety management concepts and practices
Utilizing the hierarchy of controls for mitigating safety hazards
Safety constructability: addressing safety through the design of a project
Zero injury techniques for implementation during construction
Learning Outcomes
Describe the hierarchy of controls and its application to mitigating hazards on construction sites
Explain the need for, and benefits of, addressing safety early in a project lifecycle prior to construction
List construction management techniques for improving safety during construction
Webinar Benefits
Find out how to structure a safety program that involves the entire project team
Learn a new way to think about structuring safety programs
Gain an understanding of how engineers can play a role in safety
Learn which types of safety controls are better than others
Find out which injury prevention techniques are highly effective
Learn what "safety constructability" is
Understand how safety practices differ in terms of reliability
Assessment of Learning Outcomes
Students' achievement of the learning outcomes will be assessed via a short post-assessment (true-false, multiple choice and fill in the blank questions).
Intended Audience
Design Engineer
Construction Project Managers
Owner representatives on capital projects
Webinar Outline
Introduction

Safety performance in the construction industry
The need for developing a project-specific safety program
The benefit of including all project team members in the safety program

Concepts and resources available for developing a safety program

Why accidents occur and the impacts of injuries/fatalities
Hazard identification and risk assessment
Risk and reward

A starting point: Hierarchy of Controls

Elimination
Substitution
Engineering
Administrative (e.g., construction management zero injury techniques)
Personal Protective Equipment (PPE)

Current safety practices

A description of the extent to which each practice is being implemented in industry and future practices being considered by industry

Concluding remarks; questions and comments from the audience
How to Earn your CEUs/PDHs and Receive Your Certificate of Completion

To receive your certificate of completion, you will need to complete a short on-line post-test and receive a passing score of 70% or higher within 1 year of purchasing the course.
How do I convert CEUs to PDHs?
1.0 CEU = 10 PDHs [Example: 0.1 CEU = 1 PDH]