Practical Application of Fiber Reinforced Polymer (FRP) in Strengthening Existing Concrete and Masonry Structures (AWI082418)
CEU:0.2
On-Demand Webinar | Online
Product
On-Demand Webinar
Keyword(s)
Codes and Standards, Construction, Materials, Structural
Description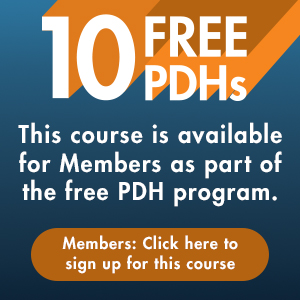 View Important Policies and System Requirements for this course.
Sponsored by ASCE Continuing Education and the Structural Engineering Institute (SEI).

INSTRUCTOR: Mohammad Aliaari, Ph.D., S.E., P.E., M.ASCE
Course Length: 90 minutes
Purpose and Background
Fiber Reinforced Polymer (FRP) is a high-strength composite material that has been used in some industries such as aerospace, marine, and automobile for some time. Lately, there has been a large increase in civil engineering application. It is rapidly becoming a preferred material for strengthening of existing structures, particularly concrete and masonry buildings and bridges. FRP application has several advantages over traditional steel reinforcing and concrete material, such as higher capacity, lighter weight, smaller sizes, and superior environmental durability. These advantages, combined with availability of more manufactures, ease of use, and reduced construction cost and time, make FRP a preferred material. This webinar provides an overview of FRP material and composition. It explains various application of FRP for gravity, wind, and seismic strengthening of existing structural elements such as columns, beams, slabs, and walls. It also discusses design fundamentals, construction considerations, and available standards and specifications.
Primary Discussion Topics
Overview on FRP material
Mechanical properties and compositions
Different types and forms of FRP
Advantages and disadvantages of FRP over other material
Application of FRP for civil engineering and structural strengthening
Installation and construction considerations
Learning Outcomes
Upon completion of this course, you will be able to:
Present FRP material and its composition
Identify types and forms of FRP composites
Describe advantages and disadvantages of FRP over conventional material
Discuss different application for civil engineering and structural strengthening
Explain behavior and design considerations
Demonstrate proper construction and inspections for quality assurance
Webinar Benefits
Be familiar with FRP material
Learn about different types and forms of FRP
Observe various application of FRP for civil engineering and structural strengthening
Find out advantages and benefits of FRP compared to other material
Understand importance of construction and inspection qualities
Be familiar with current standards and available guides for FRP design and construction
Assessment of Learning Outcomes
Students' achievement of the learning outcomes will be assessed via a short post-assessment (true-false, multiple choice and fill in the blank questions).
Intended Audience
Architects
Civil and structural engineers
Contractors
Building officials, jurisdictional agencies
Building owners/mangers
Webinar Outline
Overview of FRP composites
Design guidelines and standards
FRP applications
Installation considerations and standards
How to Earn your CEUs/PDHs and Receive Your Certificate of Completion

To receive your certificate of completion, you will need to complete a short on-line post-test and receive a passing score of 70% or higher within 1 year of purchasing the course.
How do I convert CEUs to PDHs?
1.0 CEU = 10 PDHs [Example: 0.1 CEU = 1 PDH]