Erosion Control and Revegetation Metrails; Design, Installation and Performance (AWI042418)
CEU:0.2
On-Demand Webinar | Online
Product
On-Demand Webinar
Description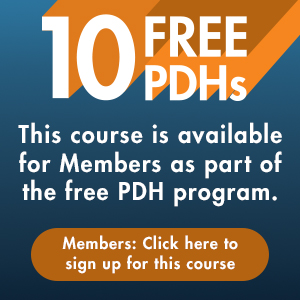 View Important Policies and System Requirements for this course.
Sponsored by ASCE Continuing Education and the Geo-Institute (G-I).
INSTRUCTOR: Robert M. Koerner, Ph.D., P.E., D.GE, Dist.M.ASCE
Course Length: 90 minutes
Purpose and Background
Geosynthetics have made a major impact regarding erosion control and revegetation of soil slopes. Whether temporary or permanent time frames, these easy-to-use rolled products come in many types and varieties. This webinar properly characterizes the materials and then provides designs for their use on both soil slopes and in channel/ditches. This webinar also presents laboratory bench-scale and full-scale field test methods. It also explains those methods. This webinar discusses a new generic turf reinforcement mat (TRM) specification, along with the required test methods which are necessary for use by designers and specifiers. The webinar concludes with a summary and recommendation section.
Primary Discussion Topics
Basic soil erosion mechanisms
Erosion control product categories and examples
Design methods for soil slopes and channel/ditches
Large scale laboratory tests
Full scale field test sites
Generic specification for turf reinforcement mats
Summary and recommendation
Learning Outcomes
Upon completion of this course, you will be able to:
Identify the basic mechanisms of soil erosion
Describe the plethora of available products and characterize them into groups
Design methods for use on soil slopes and in channels/ditches
Illustrate large scale laboratory test methods
Illustrate full scale field test sites
Present a new generic specification for turf reinforcement mats
Illustrate the numerous test methods required in this specification
Present a summary and recommendation
Webinar Benefits
Provide participants with the full array of rolled erosion and revegetation products that are available and categorize them accordingly
Illustrate numeric examples of design when used on slopes and in channels/ditches
Learn how to test in three modes: large-scale lab, full-scale field, and ASTM tests for use in a new generic specification
Assessment of Learning Outcomes
Students' achievement of the learning outcomes will be assessed via a short post-assessment (true-false, multiple choice and fill in the blank questions).
Intended Audience
Geotechnical, transportation, geo-environmental and geosynthetic engineers
Federal, state and regional environmental engineers
Private and municipal land developers, architectural and landscape designers
General and specialized civil consulting engineers and testing laboratories servicing these organizations
Manufacturers and representatives of geosynthetic materials
Contractors and installers of geosynthetics
Academic and research groups
Others desiring technically related information on this important aspect of soil erosion control and revegetation
Webinar Outline
Mechanisms and available products
Design guidance
Large-scale laboratory tests
Full-scale field test sites
Generic specification for TRMS (with accompanying ASTM test methods)
Summary and recommendations
How to Earn your CEUs/PDHs and Receive Your Certificate of Completion

To receive your certificate of completion, you will need to complete a short on-line post-test and receive a passing score of 70% or higher within 1 year of purchasing the course.
How do I convert CEUs to PDHs?
1.0 CEU = 10 PDHs [Example: 0.1 CEU = 1 PDH]