Changes to the Nonbuilding Structures Provisions in ASCE 7-16 (AWI092517)
CEU:0.1
On-Demand Webinar | Online
Product
On-Demand Webinar
Keyword(s)
Codes and Standards;Structural
Description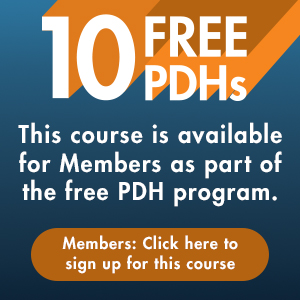 View Important Policies and System Requirements for this course.
INSTRUCTOR: J. G. (Greg) Soules, P.E., S.E, P.Eng., SECB, F.SEI, F.ASCE
Course Length: 1 hour
View all webinars related to ASCE 7-16.
The teleconference method allows the audience to see this webinar straight from my office, without having to travel. I have attended many ASCE webinars and find that ASCE knows how to put together an effective webinar. - Anonymous Attendee
Purpose and Background
The 2016 edition of ASCE 7 contains a number of important changes that affect the seismic design of nonbuilding structures. This webinar discusses these important changes and how these changes impact the design and construction of nonbuilding structures. In addition, changes made to the provisions to help clarify the application of the provisions of Chapter 15 of ASCE 7-16 are identified and discussed.
Many of the changes to be discussed in this webinar are driven by poor performance of some nonbuilding structures in past seismic events, the need to conform some existing industry standards to the basic requirements found in ASCE 7, or confusing language found in previous editions of ASCE 7.
Learning Outcomes
Upon completion of this course, you will be able to:
Apply the new vertical seismic ground motions to nonbuilding structures
Identify when the accidental torsion requirements of ASCE 7-16 do not apply to nonbuilding structures
Determine the seismic forces on free standing cantilever walls and fences
Specify ASTM F1554 anchors
Webinar Benefits
Understand the new vertical seismic ground motion requirements for nonbuilding structures
Learn how to properly apply the requirements of ASCE 7-10 Chapter 15 for accidental torsion to nonbuilding structuresUnderstand the requirements for using shallow foundations to support nonbuilding structures on liquefiable soils
Find out the new seismic requirements for freestanding cantilever walls and fences
Find out the latest seismic requirements for steel cantilever storage racks
Learn how to properly specify ASTM F1554 anchors for use with nonbuilding structures
Avoid costly errors by learning clarifications of some existing Chapter 15 provisions
Assessment of Learning Outcomes
Students' achievement of the learning outcomes will be assessed via a short post-assessment (true-false, multiple choice and fill in the blank questions).
Intended Audience
Structural engineers who design nonbuilding structures will benefit from this webinar.
Webinar Outline
Introduction
Scope and organization of ASCE 7-16 Chapter 15 – Seismic Design Requirements for Nonbuilding Structures
Major Changes / Additions to Chapter 15 for the 2016 Edition of ASCE 7-16

New Vertical Seismic Requirements
Relaxed Accidental Torsion Requirements
Requirements for Foundations on Liquefiable Soils
New Requirements for Freestanding Cantilever Walls and Fences
New Requirements for Wind Turbine Structures
AWWA D107 added for Composite Elevated Water Tanks
ASME STS-1 added for Steel Stacks
MH 16.3 added for Steel Cantilever Storage Racks

Restrictions Added on the Use of:

F1554 Anchors
AWWA D103 Type 6 tanks

Clarifications added for

Tank Sloshing
Scaling of Forces
Modular Systems
Drift
Generic load requirements cleaned up
Integral/Non-integral vessel supports
Use of API 620 flat bottom tank seismic requirements
Sliding check applied to anchored tanks

Administrative Updates

Update references to ACI 318-14
Update to Chapter 23 references

Conclusion
Questions
How to Earn your CEUs/PDHs and Receive Your Certificate of Completion

To receive your certificate of completion, you will need to complete a short on-line post-test and receive a passing score of 70% or higher within 1 year of purchasing the course.
How do I convert CEUs to PDHs?
1.0 CEU = 10 PDHs [Example: 0.1 CEU = 1 PDH]