Seismic Screening of Buildings Using ASCE 41-13 (AWI060616)
CEU:0.2
On-Demand Webinar | Online
Product
On-Demand Webinar
Keyword(s)
Codes and Standards;Structural
Description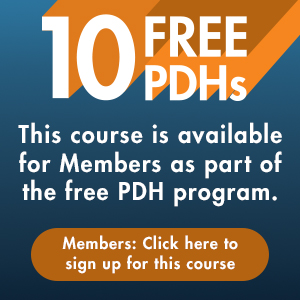 View Important System Requirements for viewing this course.
Sponsored by ASCE's Structural Engineering Institute and ASCE Continuing Education.
INSTRUCTOR: Brian Kehoe, P.E., S.E. F.ASCE
Course Length: 90 minutes
Purpose and Background
To assess a building's seismic vulnerability, local jurisdictions or building owners may require an engineer to perform an assessment of the building to identify need for seismic strengthening. ASCE 41-13 provides a three-tier methodology for evaluation and retrofit of existing buildings, which updates the seismic evaluation procedures previously located in ASCE 31-03. This webinar describes the Tier 1 seismic screening phase of the ASCE 41-13 standard on seismic evaluation of existing buildings. Also covered are the requirements for level of seismicity and the building's performance level. The standard defines a methodology that can be applied to buildings in all seismic zones, with varying requirements depending on the level of seismicity.
Primary Discussion Topics
Determination of seismic hazard
Characterization of buildings into common building types
Differences between ASCE 31-03 and ASCE 41-13 Tier 1 evaluation procedures
Use of the Tier 1 checklists
Learning Outcomes
Upon completion of this course, you will be able to:
Identify the seismic hazard for use with the Tier 1 seismic evaluation
Characterize buildings by one or more of the common building types
Identify the steps required to determine whether a building can be classified as a benchmark building
Select and complete the appropriate building and nonstructural checklists
Webinar Benefits
Find out the latest methodology for seismic assessment of existing buildings
Determine critical building characteristics that affect seismic performance
Learn new methods for conducting a seismic screening of an existing building
Determine the the seismic hazards and performance levels to be used for evaluating existing building
Learn how to evaluate the seismic performance of nonstructural elements
Avoid unnecessary detailed seismic evaluations by focusing on critical seismic details
Avoid costly retrofits and strengthening for seismically adequate buildings
Assessment of Learning Outcomes

Students' achievement of the learning outcomes will be assessed via a short post-assessment (true-false, multiple choice and fill in the blank questions).
Intended Audience
Civil and Structural engineers with an emphasis on existing buildings
Building officials
Building managers
Architects
Federal and State agencies
Building materials testing specialists
Webinar Outline
Introduction to seismic evaluation
Seismic performance levels
Determination of seismic hazard
Characterization of building types
Material testing and analysis requirements
Benchmark building procedures
Selection and use of structural and nonstructural checklists
Evaluate the results and need for further action
Conclusion
How to Earn your CEUs/PDHs and Receive Your Certificate of Completion

To receive your certificate of completion, you will need to complete a short on-line post-test and receive a passing score of 70% or higher within 1 year of purchasing the course.
How do I convert CEUs to PDHs?
1.0 CEU = 10 PDHs [Example: 0.1 CEU = 1 PDH]