Geosynthetic Reinforced Soil Integrated Bridge System (AWI062716)
CEU:0.2
On-Demand Webinar | Online
Product
On-Demand Webinar
Keyword(s)
Geotechnical;Infrastructure;Structural
Description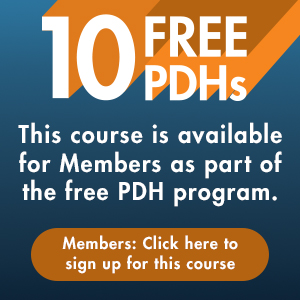 View Important System Requirements for viewing this course.

Sponsored by ASCE Continuing Education and ASCE'S Geo-Institute (GI) and Structural Engineering Institute.
View all webinars related to Geosynthetic Reinforced.
INSTRUCTORS:
Michael Adams
Daniel Alzamora, P.E.
Course Length: 90 minutes

Purpose and Background
By combining GRS into an integrated bridge system (IBS), bridges can be built faster with substantially lower costs as compared to conventional foundation alternatives. This webinar presents an overview of geosynthetic reinforced soil (GRS) as an accelerated construction technology for single span bridges. It discusses the benefits and limitations of GRS-IBS in highway applications. Through presentation by FHWA engineers, participants will gain a better understanding of the fundamentals of GRS technology, its benefits, design and construction considerations, and performance.
Primary Topics of Discussion
GRS overview

History

Design concepts

Construction

Performance

Example projects
Learning Outcomes
Upon completion of this course, you will be able to:
Become familiar with the fundamentals of geosynthetic reinforced soil technology

Define the major components of GRS-IBS

Determine the benefits and limitations for the use of GRS-IBS in highway applications

Identify site conditions suitable for GRS-IBS construction

Recall the two rules for proper construction of a GRS structure

Recognize the steps required to design a GRS-IBS

Develop an understanding of available design and construction resources for the GRS-IBS
Webinar Benefits
Gain an understanding of advancements in reinforcement technology

Learn about the design and construction of small bridges to save time and money on projects

Discuss resources and tools for GRS abutments and IBS

Understand the implementation of the GRS-IBS and FHWA Every Day Counts Initiative
Assessment of Learning Outcomes
Students' achievement of the learning outcomes will be assessed via a short post-assessment (true-false, multiple choice and fill in the blank questions).
Intended Audience
Geotechnical engineers

Bridge designers and consultants

Construction contractors

Transportation officials

Researchers
Webinar Outline
GRS overview

History

GRS design concepts

GRS construction techniques

Performance of the GRS-IBS

Overview of example projects

Deployment status
How to Earn your CEUs/PDHs and Receive Your Certificate of Completion

To receive your certificate of completion, you will need to complete a short on-line post-test and receive a passing score of 70% or higher within 1 year of purchasing the course.
How do I convert CEUs to PDHs?
1.0 CEU = 10 PDHs [Example: 0.1 CEU = 1 PDH]