Significant Changes to the Wind Load Provisions of ASCE 7-16 (AWI052416)
CEU:0.1
On-Demand Webinar | Online
Product
On-Demand Webinar
Keyword(s)
Codes and Standards;Structural
Description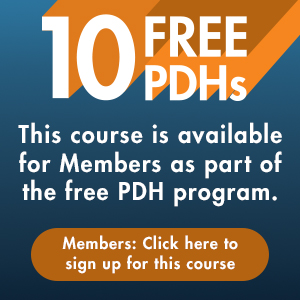 View Important System Requirements for viewing this course.

INSTRUCTOR: T. Eric Stafford, P.E.
Course Length: 1 hour

Sponsored by ASCE's Structural Engineering Institute and ASCE Continuing Education.
View all webinars related to ASCE 7-16.
The webinars offered by ASCE are the easiest ones for me to present groups. I appreciate how consistently ASCE organizes its webinars. - Dana M. Hardy, Executive Secretary City of Oklahoma Utilities Administration
Purpose and Background
The newest edition of ASCE 7 (2016) includes significant technical and organizational changes to the wind loading provisions from the 2010 Edition (ASCE 7-10). This webinar addresses many of those significant changes. The basic wind speed maps have been revised to reflect new wind speed contours for the interior of the United States in addition to a new wind speed map specific to risk category IV buildings and structures. It discusses the impact of the new wind speed maps. The commentary has been revised to provide guidance on how to design buildings for tornadoes. Roof pressure coefficients (GC) have been revised based on new research. These changes, along with many others, are covered in this webinar. Attendees will gain an acute understanding of the important changes to the requirements for determining wind loads in ASCE 7, in addition to a thorough explanation of the rationale for changes to the provisions. The impact of these changes on the design of buildings for wind loads will be clearly demonstrated with illustrations and examples as applicable.
Primary Topics of Discussion
Basic wind speed maps
Roof C&C loads
Exposure categories
Building appurtenances (rooftop solar, rooftop equipment, attached canopies)
Designing for tornadoes
Learning Outcomes
Upon completion of this course, you will be able to:
Become more familiar with the key changes to wind load design in ASCE 7-16
Discuss the rationale for making the changes to the wind provisions in ASCE 7-16.
Determine the impact and reasoning for the changes to the basic wind speed maps
Avoid making costly errors due to a lack of understanding of the appropriate adjustments required for calculating wind loads in accordance with ASCE 7-16
Webinar Benefits
Gain a better understanding of the revised roof pressure coefficients and new zones
Learn the current knowledge for designing buildings for tornadoes
Discuss the new provisions for determining wind loads on solar collectors
Assessment of Learning Outcomes
Students' achievement of the learning outcomes will be assessed via a short post-assessment (true-false, multiple choice and fill in the blank questions).
Intended Audience
Structural engineers
Architects
Code officials and code consultants
Webinar Outline
Introduction
Changes to the basic wind speed maps

Non-hurricane wind speeds
Risk category IV
Comparison of design pressures

Exposure categories
Enclosure classification
Roof component and cladding pressure coefficients (GC)
Rooftop solar collectors
Attached canopies
Design wind loads for tornadoes (commentary)
Rooftop equipment
How to Earn your CEUs/PDHs and Receive Your Certificate of Completion

To receive your certificate of completion, you will need to complete a short on-line post-test and receive a passing score of 70% or higher within 1 year of purchasing the course.
How do I convert CEUs to PDHs?
1.0 CEU = 10 PDHs [Example: 0.1 CEU = 1 PDH]