Mitigating Effects of Corrosion and Deterioration in Construction (AWI011911)
CEU:0.2
On-Demand Webinar | Online
Product
On-Demand Webinar
Keyword(s)
Architectural, Construction, Structural
Description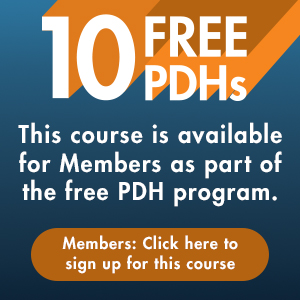 View Important Policies and System Requirements for this course.
This webinar was co-sponsored by ASCE's Structural Engineering Institute and ASCE Continuing Education
Instructor:
Alexander Newman, P.E., F.ASCE
Course Length: 1.5 Hours
Purpose and Background
According to the results of a 2002 study, the total annual estimated direct cost of corrosion in the United States is a staggering $276 billion – approximately 3.1 percent of our Gross Domestic Product (GDP)! As design and construction professionals, we are primarily concerned with degradation of construction materials, and our efforts in this area could be improved. This webinar outlines the practical steps that can prolong the lives of our structures.
The effects of corrosion and deterioration on construction materials are far from being fully understood by everyone, and there are many everyday questions on these topics. For example: Under which circumstances will stainless steel corrode? Does dry rot affect the hardwoods? Why do the steel fasteners tend to corrode quickly in pressure-treated lumber? Can corrosion of reinforcing bars in concrete be stopped? These and many other practical questions are answered in the presentation.
The instructor explains how corrosion and deterioration start and progress in various construction materials and which practices are available to control these pernicious effects. The discussion covers common structural materials, such as metals, concrete, masonry, and wood. Based on three decades of design, construction, and forensic experience, the instructor offers a clear-eyed commentary on the cost-effectiveness of the various solutions and suggests the optimal mitigation approaches for various circumstances.
Learning Outcomes
Upon completion of this course, you will be able to:
Identify the main causes of material degradation

Become familiar with the basic methods of mitigating the effects of corrosion and deterioration in construction materials
Seminar Benefits
Explore the typical causes of degradation in wood structures

Recognize the potential for metals corrosion in many widely used design details and learn how to improve these details

Discover which unwise construction techniques can greatly accelerate corrosion of reinforcement in concrete

Find out where not to use a common masonry material

Understand which chemical is responsible for fastener corrosion in pressure-treated lumber, and which practical steps can be taken to mitigate the problem
Assessment of Learning Outcomes
Students' achievement of the learning outcomes will be assessed via a short post-assessment (true-false, multiple choice and fill in the blank questions).
Intended Audience
Structural and civil engineers, architects, and building officials seeking to learn about mitigating the effects of corrosion and deterioration in construction will benefit from this webinar.
Seminar Outline
Introduction

General reasons for deterioration of construction materials

Specific causes of deterioration and methods of their mitigation in:

Metals

Concrete

Masonry

Wood

Conclusion
How to Earn your CEUs/PDHs and Receive Your Certificate of Completion
To receive your certificate of completion, you will need to complete a short on-line post-test and receive a passing score of 70% or higher within 1 year of purchasing the course.
How do I convert CEUs to PDHs?
1.0 CEU = 10 PDHs [Example: 0.1 CEU = 1 PDH]