Joints in Buildings (AWO022912)
CEU:0.2
On-Demand Webinar | Online
Group/Site (up to 30 engineers)
Member $249.00 | Non-Member $349.00
Product
On-Demand Webinar
Description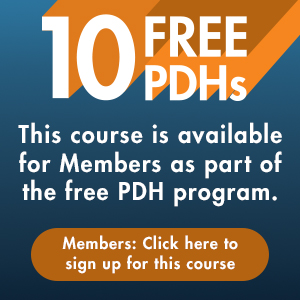 View Important Policies and System Requirements for this course.
This webinar was co-sponsored by ASCE's Structural Engineering Institute(SEI) and ASCE Continuing Education
Instructor: Alexander Newman, P.E., F.ASCE
Course Length: 1.5 Hours
Purpose and Background
The various types of joints used in buildings might be confusing for both the design professionals and the contractors. The confusion often starts with the terminology used by some. What exactly is a 'cold joint'? What does a 'control joint' control? How soft is a 'soft joint'? Aren't there better names for these?
Beyond the semantics, the function and the proper use of the various joints frequently invite questions. The spacing of the building expansion joints has been one area where the changing building codes have resulted in plenty of misunderstanding. Just how often may these joints be placed in the buildings of different types and structural systems? Do seismic or thermal movements control the spacing? Where is this guidance stated and how open is it to interpretation? How to make an expansion joint in a 300-foot-long sloped metal roof? Do we even need expansion joints in wood-framed buildings?
A proper use of the wall joints might be unclear to some as well. Is the width of the brick wall expansion joint fixed by code or determined by calculations? Where should these joints be placed in the walls with openings? Should expansion of control joints be used in the exposed walls made of concrete masonry units (CMU)? How often should those joints be spaced? Does it matter whether the walls are reinforced or not?
Some issues of joint placement in concrete slabs on grade might be unclear as well. For example, is the common practice of placing control and construction joints parallel to one another rational? What about the slab joints at the perimeter foundation walls? The objective of this webinar is to demystify the topic and to provide the answers to these and many other questions related to the various types of joints used in buildings.
Learning Outcomes
Upon completion of this course, you will be able to:
Examine the types of joints used in buildings

Become familiar with the function and proper use of various building joints
Webinar Benefits
Discover the guidelines for locating and spacing building expansion joints

Explore the differences between the expansion and contraction joints in masonry walls and how some common details could be specified incorrectly

Find out whether expansion joints are needed in wood-framed buildings (wood primarily shrinks, doesn't it?)

Discuss some contentious issues in specifying the joints in concrete slabs on grade

Learn how to investigate and repair failed masonry wall joints
Assessment of Learning Outcomes
Students' achievement of the learning outcomes will be assessed via a short post-assessment (true-false, multiple choice and fill in the blank questions).
Intended Audience
Structural and civil engineers, contractors and building officials seeking to increase their knowledge of the various types of joints used in buildings will benefit from this webinar.
Webinar Outline
Introduction: Types of joints

Building expansion joints

Joints in concrete structures

Masonry wall joints

Joints in wood buildings?

Remedial actions for failed joints

Case study: Investigation of failed building joints
How to Earn your CEUs/PDHs and Receive Your Certificate of Completion
To receive your certificate of completion, you will need to complete a short on-line post-test and receive a passing score of 70% or higher within 1 year of purchasing the course.
How do I convert CEUs to PDHs?
1.0 CEU = 10 PDHs [Example: 0.1 CEU = 1 PDH]