Access Management - Does it Really Work? An Interactive Approach to Determine What Works and What Doesn't (AWI100120)
CEU:0.2
On-Demand Webinar | Online
Product
On-Demand Webinar
Keyword(s)
Transportation
Description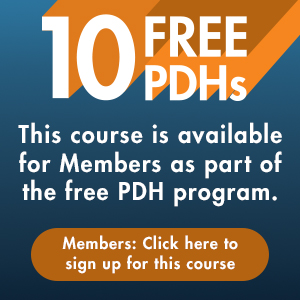 View Important Policies and System Requirements for this course.
INSTRUCTOR: Nazir Lalani, P.E., M.ASCE
Course Length: 90 minutes
Sponsored by ASCE Continuing Education and the Transportation and Development Institute (T&DI).
Purpose and Background
Access Management (AM) is the proactive management of vehicular access points to land parcels adjacent to all manner of roadways. Good access management promotes safe and efficient use of the transportation network. AM encompasses a set of techniques that state and local governments can use to control access to highways, major arterials, and other roadways. This webinar discusses access management techniques that have potential application to highways and streets. The webinar is organized to describe the context in which access management is commonly used; the governments role in managing access, including guidelines and driveway design; other access management techniques; and, land use strategies that local jurisdictions can use as part of an integrated access management program for entire corridors.
Access management applies roadway and land use techniques in order to preserve the safety, function, and capacity of transportation corridors. The objective is to ensure roadway safety and efficient operations while providing reasonable access to the adjacent land uses. Access management can also improve the environment for pedestrians, bicycles, and motor vehicles in all settings and on all roadway types by reducing and consolidating driveway conflict points. In addition to the insight provided by the instructor, the webinar draws on numerous publications including Access Management Manual (TRB), and A Guidebook for Including Access Management in Transportation Planning (NCHRP) to provide valuable information on the development of access management programs. The webinar will also show examples of where access management strategies may sometimes prove to be counterproductive if not implemented according accepted best practices.
Primary Discussion Topics
Principles and effects of access management
Proven safety countermeasures through corridor access management
Access management techniques and their potential advantages AND disadvantages
The interrelationship with land development and how to address access management in the context of comprehensive planning and land development regulation
The rationale for spacing standards and how to choose appropriate standards for connections, signals, corner clearance at intersections, and interchange areas
Challenges of Access Management Codes adopted by State Transportation Departments
Learning Outcomes
Upon completion of this course, you will be able to:
Identify at least 10 methods for improving access along major travel routes

Identify at least 10 mistakes caused by inadequate driveway location and design
Successfully describe three applications from the case studies on corridor access management upgrades
Cite at least 15 relevant technical publications for improving access management along important transportation corridors

Webinar Benefits
Learn about the importance of facility hierarchy
Learn about access management from both a regional and local perspective and why it is so important
Become familiar with a wide variety of techniques used in successfully implemented access management programs
Understand current state of the practice and the most current publications on corridor access management
Assessment of Learning Outcomes
Students' achievement of the learning outcomes will be assessed via a short post-assessment (true-false, multiple choice and fill in the blank questions).
Intended Audience
Transportation engineers/planners for local agencies
State Highway Departments
Consultants working on private development projects
Webinar Outline
Access spacing
Driveway spacing
Adding auxiliary turn lanes
Case studies and resultant benefits of corridor access management
City and County corridor management though land use decisions
Constructing parallel, lower speed one-way/two-way frontage roads
Corridor access management and control
Designing from outside in (until the access operation area is cleared)
Designing to meet the needs of pedestrian and bicyclists
Driveway closure, consolidation, or relocation
Improving driveway operations (driveway design elements)
Joint access
Provision of access and access exceptions
Raised medians that prevent cross-roadway movements and focus turns and/or U-turns to key intersections
Right of way management
Restricted-movement and alternative designs for intersections (such as J-turns, median U-turns and quadrant roadways)
Sight distance - & preserving the sight distance
Street connections
Turning lane design
State highway access codes for corridor preservation
Using one lane or mini roundabouts to provided needed access.
How to Earn your CEUs/PDHs and Receive Your Certificate of Completion
To receive your certificate of completion, you will need to complete a short on-line post-test and receive a passing score of 70% or higher within 1 year of purchasing the course.
How do I convert CEUs to PDHs?
1.0 CEU = 10 PDHs [Example: 0.1 CEU = 1 PDH]