Risk Management and Being an Effective Witness - An Interactive Approach to Testifying Best Practices (AWI072420)
CEU:0.2
On-Demand Webinar | Online
Product
On-Demand Webinar
Keyword(s)
Transportation
Description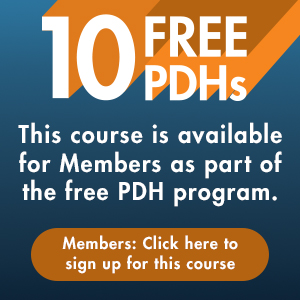 View Important Policies and System Requirements for this course.
Sponsored by ASCE Continuing Education and the Transportation Development Institute (T&DI)
.
View all webinars related to Nazir Lalani.
The teleconference method allows the audience to see this webinar straight from my office, without having to travel. I have attended many ASCE webinars and find that ASCE knows how to put together an effective webinar. - Anonymous Attendee
INSTRUCTOR:
Nazir Lalani, P.E., M.ASCE
Course Length: 90 minutes
Purpose and Background
Testifying at depositions is can be one of the most important but stressful phases of litigation. Making mistakes or testifying ineffectively can cause your attorney problems. The presentation will cover many to engineers in testifying effectively. The presentation will revolve around what the presenter has learned from testifying in various cases for both defendants and plaintiffs based on being involved in litigation for the past 30 years. Although the cases discussed will involve lawsuits resulting from highway design, the information provided will help civil engineers involved as witnesses in various types of litigation.
The most recent sources of information will be identified through a list of references and participants can obtain additional information on a variety of topics through links that will be provided in the webinar material. The webinar will be interactive to engage the audience What If type questions and also quiz polls based on the information that has been presented in the webinar.
Primary Discussion Topics
Why Conduction Depositions?
Videos Taping Depositions/Phone Depositions
Discoverable Information
Percipient Witnesses
Objections by Other Attorneys
Learning Outcomes
Upon completion of this course, you will be able to:
Use the Three Most Important Ways for Preparing for Depositions
IdentifyFive Common Pitfalls for Testifying at Depositions
Illustrate Three Best Practices for Organizing Information for Depositions
IdentifyThree Ways of Effectively Interacting with Hostile Attorneys
Develop From Five Webinar Quiz Polls During the Presentation
Benefits for Participants
Best Practices for Deposition Preparation
Improved Understanding Legal Terminology
Learning About The Difference Between Testifying in Depositions and In Court
Gaining Access to Additional Resources And References
Learning from Actual Cases and What Went Right or Wrong for All Parties Involved
Assessment of Learning Outcomes
Students' achievement of the learning outcomes will be assessed via a short post-assessment (true-false, multiple choice and fill in the blank questions).
Intended Audience
Transportation Engineers/Planners
Highway Designers for All Types of Facilities
Law Enforcement Officers
Public Agency Maintenance Personnel
Webinar Outline
The Significance of Claims and The Collision Report
Form and Special Interrogatories
Request for Admissions and Demand for Production
The Significance of Data and Design Plans
Reviewing Depositions of Others and Vehicle Inspections
Motions for Summary Judgment
Plaintiff versus Defense - Where Do Insurance Companies Fit In?
Why Conduction Depositions?
Preparing for Depositions and Deposition Notices
Scheduling Conflicts
Videos Taping Depositions
Where Depositions are Held
Travel Time to Depositions - Reasonable Rates and Who Pays
Your Physical Appearance
Background Research By Other Side
The Importance of Site Visits
What is Discoverable in Expert's Files
Percipient Witnesses versus Expert Witnesses - What is the Difference?
Person Most Knowledgeable v. Person Most Qualified
Performing Work Not Authorized by Your Attorney
What to Bring and Preparing a Binder
Opinion Summary and Importance of Covering ALL Your Opinions
Testimony - Sticking to the Facts
Best Approaches to Answering Questions
Objections by Other Attorney
Examination by Multiple Attorneys
How to Handle Hostility
Publications and Web Site
Conflicts with Prior testimony
The Value of Reconstructionist Experts
After the Deposition Ends
Testimony Transcript Review
Changes to Deposition Transcripts
How to Earn your CEUs/PDHs and Receive Your Certificate of Completion

To receive your certificate of completion, you will need to complete a short on-line post-test and receive a passing score of 70% or higher within 1 year of purchasing the course.
How do I convert CEUs to PDHs?
1.0 CEU = 10 PDHs [Example: 0.1 CEU = 1 PDH]