Cost Justification for Sustainable and Resilient Infrastructure: Data Driven Economic Analysis for Project Decision Support - Part II (AWI121219)
CEU:0.2
On-Demand Webinar | Online
Product
On-Demand Webinar
Keyword(s)
Sustainability
Description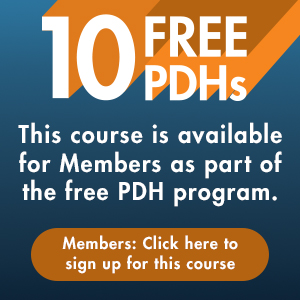 View Important Policies and System Requirements for this course.
INSTRUCTOR: Eric Bill
Course Length: 90 minutes

Purpose and Background
While engineers excel at technically-oriented analysis, the basis of that analysis lie in the field of engineering. However, another technical analysis that engineers sometimes struggle with is financial and economic analysis - an essential element in how one makes the case for their project or design. A growing number of infrastructure owners are demanding performance data including projected financial, economic, social, and environmental returns on investment to sustainable design. Projections need to be based on credible, objective, and transparent economic assessment to determine the viability of a business case in support of design decisions. This webinar builds upon the first webinar in providing content for engineers around building the case, including life cycle cost analysis, cost benefit analysis, and triple bottom line analysis on projects. The content engages engineers to build capacity in order to be conversant in the language of finance and economics to support project design, prioritize competing alternatives, garner funding and persuade decision makers, and support stakeholder and community outreach.
Primary Discussion Topics
Expose participants to business cases for sustainable and resilient design improvements from actual sustainable infrastructure projects across a range of types

Expose participants to the concept of business case analysis including the different types of assessment commonly used to craft objective, transparent and comparable cases

Economic and financial modeling best-practices

How to identify and use appropriate ecosystem service valuation approaches

Create design pitches that emphasize value associated with each alternative
Learning Outcomes
Upon completion of this course, you will be able to:
Prepare an outline of a business case for sustainable infrastructure

Identify research and documentation supporting the economic analysis used to produce the business case

Apply a working knowledge of the types of assessment that can be used to determine returns on investment from sustainable and resilient features in sustainable infrastructure

Identify ecosystem service impacts and how these are valued

Describe the processes used to create a business case for sustainable and resilient infrastructure
Webinar Benefits
Make the case for your project

Mitigate value engineering impacts

Better understand how financial and economic analysis is developed

Gain knowledge on how social and environmental impacts are included in a business case

Learn new business case development skills

Understand how co-benefits in sustainable and resilient are valued

Communicate more confidently as to the merits of your project/design
Assessment of Learning Outcomes
Students' achievement of the learning outcomes will be assessed via a short post-assessment (true-false, multiple choice and fill in the blank questions).
Intended Audience
Project managers

Program managers

Planners

Project engineers

Public agency project managers

CIP team
Webinar Outline
Impact Infrastructure proposes to offer the following course series to civil engineers engaged in designing and supporting projects

How to build the business case for your sustainable and resilient project for triple bottom line outcomes

Financial

Social

Environmental

Learn to be conversant in the language of finance and economics to support project design, prioritize competing alternatives, garner funding and persuade decision makers, as well as support stakeholder and community outreach
How to Earn your CEUs/PDHs and Receive Your Certificate of Completion

To receive your certificate of completion, you will need to complete a short on-line post-test and receive a passing score of 70% or higher within 1 year of purchasing the course.
How do I convert CEUs to PDHs?
1.0 CEU = 10 PDHs [Example: 0.1 CEU = 1 PDH]