Construction Vibrations (AWI052319)
CEU:0.1
On-Demand Webinar | Online
Product
On-Demand Webinar
Keyword(s)
Construction;Geotechnical;Structural
Description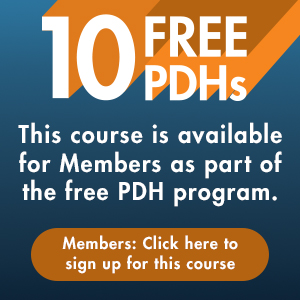 View Important Policies and System Requirements for this course.
Sponsored by ASCE Continuing Education and the Geo-Institute (G-I).
INSTRUCTORS:
Antonios Vytiniotis, Ph.D., P.E.
Brendan Casey, Ph.D., P.E.
Course Length: 1 hour
Purpose and Background
This webinar discusses principles of construction vibrations. It describes the main mechanisms of wave generation during construction projects and the physics of wave propagation and energy dissipation. It illustrates the scatter in commonly used attenuation equations. It discusses various thresholds for human perception as well as possible direct and indirect potentially damaging effects to various types of structures. It presents special effects such as resonance and effects of dipping rock ledges. The webinar summarizes various ways to monitor and analyze construction vibrations, with an emphasis on the newest technologies. Finally, the webinar closes with some mitigation techniques that can be employed to minimize the risks and potential claims associated with construction vibrations.
Primary Discussion Topics
Vibration generation during construction activities
Vibration propagation
Human perception of vibrations
Vibration effects on structures
Vibration monitoring and new technologies
Learning Objectives
Upon completion of this course, you will be able to:

Identify the vibrations generated from construction equipment
Recognize the basic physics of vibration propagation
Identify the direct and indirect mechanisms in which vibrations can affect structures
Assist in deciding what vibration monitoring technologies should be used
Webinar Benefits
Discover various characteristics of vibration sources
Learn the basic physics of vibration propagation
Recognize the inherent scatter in published correlations
Understand special vibration effects such as resonance and effects of dipping rock ledges
Avoid costly damages resulting from direct and indirect effects of vibrations
Find out latest technologies to monitor vibrations
Examine how to choose appropriate vibration monitoring tools
Assessment of Learning Outcomes

Students' achievement of the learning outcomes will be assessed via a short post-assessment (true-false, multiple choice and fill in the blank questions).
Intended Audience
Geotechnical engineers
Contractors
Structural engineers
Construction managers
Claims adjusters
Construction attorneys
Webinar Outline
Wave generation (construction sources)
Energy dissipation (geometric and material damping)
Data scatter and special effects
Human perception
Damage thresholds
Indirect effects
Vibration monitoring and new technologies
Analysis of data
How to Earn your CEUs/PDHs and Receive Your Certificate of Completion

To receive your certificate of completion, you will need to complete a short on-line post-test and receive a passing score of 70% or higher within 1 year of purchasing the course.
How do I convert CEUs to PDHs?
1.0 CEU = 10 PDHs [Example: 0.1 CEU = 1 PDH]