Utilizing Drones to Improve Bridge Inspection Results (AWI062619)
CEU:0.2
On-Demand Webinar | Online
Product
On-Demand Webinar
Keyword(s)
Transportation
Description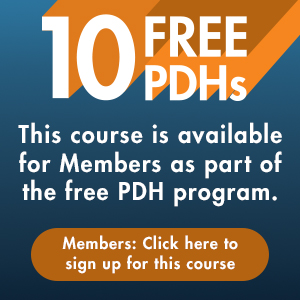 View Important Policies and System Requirements for this course.
Sponsored by ASCE Continuing Education and Transportation and Development Institute (T&DI).
INSTRUCTORS:
Barrit Lovelace, P.E.
Jennifer Wells, P.E.
Course Length: 90 minutes
Purpose and Background
The increasing costs of bridge inspections are a concern for bridge owners. The use of unmanned Aircraft systems (UAS) has been shown to reduce costs, improve the quality of bridge inspections, and increase safety. The UAS can deploy a wide range of imaging technologies including high definition still, video, and infrared sensors, and data can be analyzed using 3D imaging software.
The Minnesota Department of Transportation and Collins engineers has completed two phases of research and is currently finishing Phase III. The research has focused on evaluating drone technology and the ability to process the data collected by drones into deliverables that improve the quality of inspection data. This improved data documents and communicates the inspection results giving owners the ability to make better decisions to effectively manage their infrastructure.
While drone technology has garnered a great deal of attention in respect to bridge inspections there have been very few bridge owners that have implemented this transformative technology. This webinar provides bridge owners and engineers information on how to successfully implement the technology.
Primary Discussion Topics
Current rules and regulations regarding drone technology
Benefits of implementing drone technology
Challenges of implementing drone technology
Safety improvements vs traditional workflows
Current Drone technology as it relates to bridge inspections
Photogrammetry and bridge inspection software to process drone data into useful deliverables
Learning Outcomes
Upon completion of this course, you will be able to:
Discuss current UAS rules and regulations
Find out current and future drone technologies that are effective for bridge inspection
Successfully implement drone technology
Simulate the costs associated with implementing drones and the cost savings that can be realized compared to traditional methods
Webinar Benefits
Understand how to safely implement an inspection program utilizing drones
Experience the ways drone data can improve the bridge inspection deliverables
See practical demonstrations on how to select equipment based on bridge types and inspection goals
Webinar Outline
Possible outcomes and benefits of utilizing drones for bridge inspections
Improved safety

Improved deliverables
Improved life cycle decision making

Current rules and regulations

Current FAA rules
Possible future FAA rules
State and local rules

UAS technology

Inspection specific drones and features
Confined space drone technology
Limitations of drones
Image quality

Reality modeling of bridge inspection

Software available for data processing
Deliverables

3d bridge models
Orthomosaic
Bridge deck surveys
Cloud based inspection platforms
Cost analysis
Case studies

Stone arch bridge inspection
Bridge deck condition survey
Bridge substructure rehabilitation
Historical bridge documentation

Public response to utilizing drones
Assessment of Learning Outcomes
Students' achievement of the learning outcomes will be assessed via a short post-assessment (true-false, multiple choice and fill in the blank questions).
Intended Audience
Bridge engineers
City and state officials with responsibility for bridge maintenance
Maintenance engineers
Bridge owners
How to Earn your CEUs/PDHs and Receive Your Certificate of Completion

To receive your certificate of completion, you will need to complete a short on-line post-test and receive a passing score of 70% or higher within 1 year of purchasing the course.
How do I convert CEUs to PDHs?
1.0 CEU = 10 PDHs [Example: 0.1 CEU = 1 PDH]