Development Site Review and Access Design (AWI042018)
CEU:0.2
On-Demand Webinar | Online
Product
On-Demand Webinar
Keyword(s)
Transportation
Description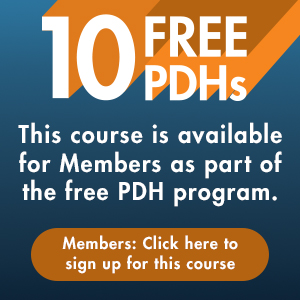 View Important Policies and System Requirements for this course.
Sponsored by ASCE Continuing Education and the Transportation and Development Institute (T&DI).

INSTRUCTOR: Nazir Lalani, P.E., M.ASCE
Course Length: 90 minutes
Purpose and Background
About 65 percent of all crashes in urban areas and 40 percent of those in rural areas occur at or near intersections or driveways. Safety improvements at these locations have always been a priority and pose a challenge for most transportation agencies in throughout the world. Because crashes are typically complex events, a great diversity of mitigation measures have been tried with varying degrees of success, including the modern roundabout. This webinar offers a range of guidelines, solutions, and strategies for reducing conflicts and provides hands-on training for engineers and planners on how to effectively manage accesses serving new and existing office, commercial and industrial uses. The presentation will focus on how to optimize the spacing and design characteristics of driveways to minimize the impacts on major street operations as well as the potential for crashes. The needs of all road users (motorists, pedestrians, and bicyclists) will also be addressed. Necessary tools and good practices for providing well planned access to a variety of development projects, from the perspectives of both the agency and the developer proposing the project, are covered. The best sources of additional information on each topic will be identified. Numerous examples will be provided illustrating both good and bad examples of access management and the impacts to the overall operation of these high volume corridors.
Learning Outcomes
Upon completion of this course, you will be able to:

Gain a better understanding of at least five critical design parameters relating driveway access
Identify ten factors that impact traffic flow within parking lots of commercial developments
Identify five best sources of additional information/references
Identify four best practices for managing access by limiting turning movements at unsignalized accesses
Identify how to design signalized and unsignalized driveways to provide unimpeded flow for motorized traffic while balancing the needs of pedestrians and bicyclists
Identify at least three case studies of development projects
Webinar Benefits

At the conclusion of this webinar, participants will be able to:
Design better access and on site circulation for various types of commercial projects
Create safe, comfortable, accessible, and welcoming environments for pedestrians and bicyclists
Avoid the most common mistakes of existing parking lot and driveway designs
Develop a digital library of the most useful publications and sources of information
Assessment of Learning Outcomes
Students' achievement of the learning outcomes will be assessed via a short post-assessment (true-false, multiple choice and fill in the blank questions).
Intended Audience
Consulting transportation engineers/planners
Transportation engineers/planners working for public agencies
Developers of commercial projects
Webinar Outline
Access, site design and site circulation
Access locations and spacing
Offsets and corner clearance
Curb radii and driveway width
Throat lengths and vehicle storage
Drive through facilities
Parking lot pavements
Accesses serving off-street parking lots
Grade and grade breaks
Sight distance and landscaping
Channelization islands
Pedestrians and bicycle circulation
Emergency vehicle access
Utilities and lighting
Delivery and service
Transit Oriented Development
Inter-development circulation
Case studies of commercial development projects
How to Earn your CEUs/PDHs and Receive Your Certificate of Completion

To receive your certificate of completion, you will need to complete a short on-line post-test and receive a passing score of 70% or higher within 1 year of purchasing the course.
How do I convert CEUs to PDHs?
1.0 CEU = 10 PDHs [Example: 0.1 CEU = 1 PDH]