Tornado Design Using ASCE 7-16 Commentary (AWI011318)
CEU:0.2
On-Demand Webinar | Online
Product
On-Demand Webinar
Keyword(s)
Codes and Standards;Structural
Description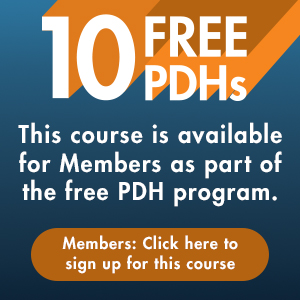 View Important Policies and System Requirements for this course.
This webinar was co-sponsored by ASCE's Structural Engineering Institute (SEI) and ASCE Continuing Education
Instructor: William L. Coulbourne, P.E., F.SEI, F.ASCE
Course Length: 90 minutes
Purpose and Background
This webinar presents the information that is new in the ASCE 7-16 Commentary on tornado design. The latest research and wind committee deliberations were used in the development of the recommended tornado wind design methodology and are included for practitioner use. There is also a simplified method that has been developed as an alternate and this will also be presented. This webinar also discusses those issues regarding tornado design that have not been fully researched to give the attendee some idea about the level of uncertainty associated with tornado wind design.
This webinar introduces the subject of tornado wind design to an audience who is repeatedly asking for this design information. Tornado design and better resistance to tornado loads is a topic of high interest to the public, and thus to the design profession. The ASCE 7-16 Commentary was developed over the last ASCE 7 cycle of 6 years and uses the latest in tornado wind research as a basis for suggesting how the wind design parameters of ASCE 7 be modified to accommodate tornado winds.
Primary Discussion Topics
Wind design methodology recommended for use for tornado design

Background in the differences recommended in the ASCE 7 wind speed parameters

Presentation of a simple ASCE 7 alternate design method for tornadoes

Information about uncertainties in the wind design parameters that are still being researched
Learning Outcomes
Upon completion of this course, you will be able to:
Explore the wind design parameters in ASCE 7-16 to use to calculate tornado wind pressures

Become acquainted with the latest tornado research and how that research is helping develop improved tornado wind design

Examine t the issues that are still unknown in tornado design and how these unknowns can still be considered

Explain a simplified method for determining tornado wind pressures that has been included in ASCE 7-16
Webinar Benefits
Learn about the current thinking on designing for tornado wind loads as provided in the ASCE 7-16 commentary

Reduce property losses from tornadoes

Assist clients address tornado design issues, including building shelters in their facilities or homes

Learn about what is still not well known about tornadoes and how to design for them to reduce lives lost and property damage

Learn about the ongoing research into the area of tornado loads and constructed resistances
Assessment of Learning Outcomes
Students' achievement of the learning outcomes will be assessed via a short post-assessment (true-false, multiple choice and fill in the blank questions).
Intended Audience
Engineers involved in wind design for clients of any building type
Webinar Outline
Background on tornadoes and suggested failure modes from damage investigations

Tornado EF scale and how it is used

ASCE 7-16 recommended wind design methodology for tornadoes

Simplified method for tornado design

Example comparative pressure results

Wind-borne debris

Performance-based design for tornadoes
How to Earn your CEUs/PDHs and Receive Your Certificate of Completion

To receive your certificate of completion, you will need to complete a short on-line post-test and receive a passing score of 70% or higher within 1 year of purchasing the course.
How do I convert CEUs to PDHs?
1.0 CEU = 10 PDHs [Example: 0.1 CEU = 1 PDH]