Designing with AWC's National Design Specification (NDS) for Wood Construction 2015: Overview and Changes from Previous Editions (AWI060117)
CEU:0.2
On-Demand Webinar | Online
Product
On-Demand Webinar
Keyword(s)
Architectural;Codes and Standards;Structural
Description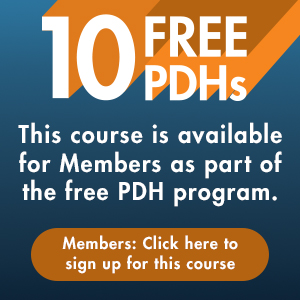 View Important Policies and System Requirements for this course.
INSTRUCTOR: Michelle Kam-Biron, P.E., S.E., M.ASCE
Course Length: 90 minutes
Sponsored by ASCE Continuing Education and the Structural Engineering Institute (SEI).
Purpose and Background
American Wood Council's (AWC) National Design Specification® (NDS®) for Wood Construction 2015 is the dual format Allowable Stress Design (ASD) and Load and Resistance Factor Design (LRFD) document referenced in US building codes and used to design wood structures worldwide. This webinar discusses the changes to the 2015 edition of the NDS and supplement. It also provides an overview of the standard.
Primary Discussion Topics
2015 NDS and supplement relative to previous editions
Overview of the standard
Learning Outcomes
Upon completion of this course, you will be able to:

Discuss the code acceptance of the 2015 NDS as well as the basic design process
Explain the load and material resistance design process and how it applies to wood structural design
Identify the similarities and differences with respect to ASD, design values, and behavioral equations
Analyze format and content within the 2015 NDS
Webinar Benefits
Become familiar with the significant changes between the 2012 and 2015 NDS and supplement
Discuss key design considerations that must be considered to ensure the structural performance of wood framed structures
Assessment of Learning Outcomes
Students' achievement of the learning outcomes will be assessed via a short post-assessment (true-false, multiple choice and fill in the blank questions).
Intended Audience
Structural and civil engineers
Code officials
Architects who are interested in or involved with the design of wood framed structures
Webinar Outline
Overview of International Building Code acceptance
Design process overview
Background on LRFD
Chapter by chapter overview of 2015 NDS and changes from 2012 NDS

General requirements for building design
Design values for structural members
Design provisions and equations
Sawn lumber
Structural glued laminated timber
Round timber poles and piles
Prefabricated wood I-joists
Structural composite lumber
Wood structural panels
Cross-laminated timber
Mechanical connections
Dowel-type fasteners
Split ring and shear plate connectors
Timber rivets
Special loading conditions
Fire design of wood members
How to Earn your CEUs/PDHs and Receive Your Certificate of Completion

To receive your certificate of completion, you will need to complete a short on-line post-test and receive a passing score of 70% or higher within 1 year of purchasing the course.
How do I convert CEUs to PDHs?
1.0 CEU = 10 PDHs [Example: 0.1 CEU = 1 PDH]