Liquid Pipe Hydraulics Basics (AWI031817)
CEU:0.2
On-Demand Webinar | Online
Product
On-Demand Webinar
Keyword(s)
Hydraulics and Water Resources;Pipelines
Description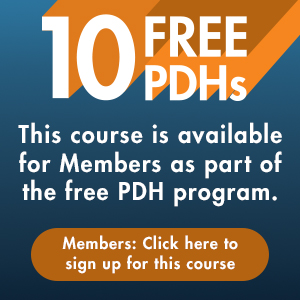 View Important Policies and System Requirements for this course.
This webinar was co-sponsored by ASCE's Environmental & Water Resources Institute (EWRI) and ASCE Continuing Education
Instructor: David T. Williams, Ph.D., P.E., PH, CFM, D.WRE, F.ASCE, F.EWRI
Course Length: 90 Minutes
Purpose and Background
This webinar provides practical aspects of basic liquid pipe hydraulics. It discusses the theory of steady state pipe mechanics (both open channel and pressurized flow), non-compressible fluid characteristics, pipe network components and the design of basic pipeline systems. Other aspects include: surge considerations and optimization.
After completion of this course, the participants will become knowledgeable of the basic pipe hydraulic equations, how they are used to size pipes and determine the necessary components of a pipe system to achieve distribution objects.
Primary Discussion Topics
Energy of steady state liquids in an open channel and pressurized pipe

Components of a pipeline network

Major and minor hydraulic losses

Pipe design and sizing
Learning Outcomes
Upon completion of this course, you will be able to:
Describe the different phenomena related to open channel and pressurized pipe flow

Summarize major and minor energy losses in a pipe system

Explain the thought processes of pipe network design

Discuss the concepts of flow optimization
Webinar Benefits
Learn how pipeline engineers design the components of a pipeline system
Find out why different equations are needed depending on open channel or pressurized situations
Be familiar with the practical aspects of pipeline design
Determine the dimensional and coefficients input requirements for pipe design
Become technically conversant with pipe design professionals
Assessment of Learning Outcomes
Students' achievement of the learning outcomes will be assessed via a short post-assessment (true-false, multiple choice and fill in the blank questions).
Intended Audience
Public agency engineers and scientists

Hydraulic engineers

Pipeline contractors

Electrical and civil engineers working with pipelines
Webinar Outline
Overall mass and energy balances in pipe flow

Pipe terminology

Pipe roughness, friction factor, flow resistance coefficients for different flow regimes

Engineering equations (Hazen-William formula)

Resistance coefficients, equivalent length for flow elements

Pipe size selections
How to Earn your CEUs/PDHs and Receive Your Certificate of Completion
To receive your certificate of completion, you will need to complete a short on-line post-test and receive a passing score of 70% or higher within 1 year of purchasing the course.
How do I convert CEUs to PDHs?
1.0 CEU = 10 PDHs [Example: 0.1 CEU = 1 PDH]