Mass Timber Structural Floor and Roof Design (AWI031717)
CEU:0.2
On-Demand Webinar | Online
Product
On-Demand Webinar
Keyword(s)
Construction, Structural
Description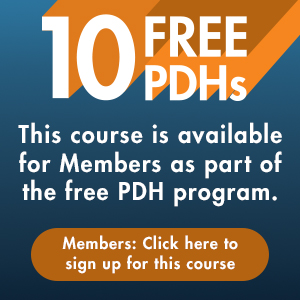 View Important Policies and System Requirements for this course.
INSTRUCTOR: Scott Brenenman, Ph.D., P.E., S.E., M.ASCE
Course Length: 1 hour
Sponsored by ASCE Continuing Education and the Structural Engineering Institute (SEI)
Purpose and Background
This webinar is intended for the structural designer of building systems seeking to learn how to design with cross laminated timber (CLT). Topics covered include application of relevant product and design standards including ANSI/APA PRG 320 and NDS 2015 to engineering problems. Specific attention will be given to the structural design of CLT in horizontal floor and roof roof framing systems and how to address important serviceability requirements related to deflection and floor vibration design. This webinar also covers the use of CLT as a compression element as in a bearing wall, design of CLT in lateral force resisting systems, with particular attention on diaphragms, and structural fire resistant design of CLT.
Primary Topics of Discussion
Structural properties of CLT materials
Strength and serviceably design of CLT floors and roofs
Use of CLT as a component of lateral force-resisting systems for diaphragms
Design of CLT in bearing walls
Learning Outcomes
Upon completion of this course, you will be able to:
Discuss product manufacturing and design standards relevant to CLT and identify where these standards are recognized in the International Building Code
Application the structural design process of CLT floor and roof applications
Determine how to design CLT floors to achieve serviceability goals related to deflection and vibration
Explain the available capabilities and detailing of CLT within the lateral force resisting system of building applications
Webinar Benefits
Discuss to the product standards for CLT and sources of structural engineering properties
Learn how CLT design properties relate to floor and roof systems, and how to apply them to structural design
Consider the basis of deflection and vibration design in order to address serviceability objectives with CLT floors
Identify engineering techniques for using CLT in lateral force-resisting systems
Learn how to apply engineering standard to CLT bearing wall design
Understand how to design a CLT element to achieve a structural fire resistance rating
Assessment of Learning Outcomes
Students' achievement of the learning outcomes will be assessed via a short post-assessment (true-false, multiple choice and fill in the blank questions).
Intended Audience
Structural engineers and designers
Building officials
Plan reviewers
Webinar Outline
CLT engineering standards and code recognition

Product standard PRG 320
Engineering design standard: CLT in NDS 2015

CLT structural section properties applicable to floor and walls construction

Source of flexural and shear strength and stiffness values
NDS standard modification factors
Example strength checks of CLT

Design for serviceability

Deflection calculations
Floor vibration design methods

Example structural CLT details in floors and roofs
CLT within lateral force-resisting systems

CLT in-plane shear strength
CLT as component of shear walls
CLT as component of horizontal diaphragms

Compression design of CLT
Fire resistant design of CLT
Sources of additional information
How to Earn your CEUs/PDHs and Receive Your Certificate of Completion

To receive your certificate of completion, you will need to complete a short on-line post-test and receive a passing score of 70% or higher within 1 year of purchasing the course.
How do I convert CEUs to PDHs?
1.0 CEU = 10 PDHs [Example: 0.1 CEU = 1 PDH]