Practical Application of LEAN in Design and Construction (AWI013017)
CEU:0.2
On-Demand Webinar | Online
Product
On-Demand Webinar
Keyword(s)
Architectural;Computing;Management and Practice;Structural
Description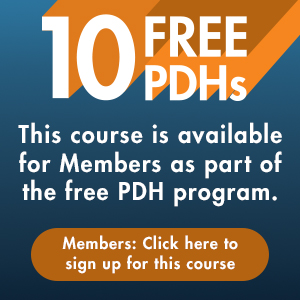 View Important Policies and System Requirements for this course.
This webinar was co-sponsored by ASCE's Structural Engineering Institute (SEI) and ASCE Continuing Education
Instructor: Mohammad Aliaari, Ph.D., S.E., P.E., M.ASCE
Course Length: 90 Minutes
Purpose and Background
Lean Project Delivery is rapidly moving toward becoming a preferred and valued delivery method in design and construction industry. This webinar presents and discusses in detail about Lean from its concept to its practical application in both design and construction phases of a project.
While for some, lean project delivery is still more of a goal rather than a reality at this time, for some others it is becoming a norm and rather a necessity, fairly rapidly. To be successful and competitive in nowadays markets, firms and their staff are required to go through a transformation of changing culture from traditional and fragmented work environment that had been established for decades towards a new integrated environment that requires lean practice and extensive use of Building Information Modeling (BIM). This webinar provides an introduction to basics of lean project delivery, followed by detail discussions about its key features, components, and limitations. It presents some of the effective methods and practical tools of lean. This webinar familiarizes the construction and engineering community including owners, planners, architects, engineers, and contractors with some of the latest effective and practical lean tools to allow them work more efficiently, minimize waste, share data more openly, and use advanced communication tools.
Primary Topics of Discussion
Basics of lean

Various forms of waste and ways to minimize it

Various forms of value and ways to maximize it

Advantages of lean project delivery

Lean appropriateness per project types

Transformation from traditional way to lean way

Brief overview of 3D BIM modeling and using for lean

Brief overview of IPD with utilizing lean

Lean process for 3D shop drawings

Lean way of clash detection using Navisworks
Learning Outcomes
Upon completion of this course, you will be able to:
Become familiar with lean project delivery

Determine the importance and advantages of using lean for a successful project

Know how to think and act lean in both design and construction phases

Demonstrate understanding of main differences between traditional way and lean way

Identify Lean process for 3D shop drawing production and review

Witness application and benefits of Lean way of clash detection using Navisworks
Webinar Benefits
Find out the latest advances in lean project delivery

Plan and be ready to participate in a lean project

Learn about lean practice in both design and construction

Become familiar with various Lean tools currently being used
Assessment of Learning Outcomes
Students' achievement of the learning outcomes will be assessed via a short post-assessment (true-false, multiple choice and fill in the blank questions).
Intended Audience
Structural engineers

All other engineers

Architects

Planners

Contractors

Public and governmental officials

Owners, their representatives
Webinar Outline
Concept of lean, waste and value

Thinking and acting lean

Lean production goals & limitations

Lean appropriate projects

Value stream mapping

Utilizing lean for IPD

Utilizing 3D/BIM for Lean

Utilizing technology tools

Enhanced constructability review

Summary & conclusions

Questions
How to Earn your CEUs/PDHs and Receive Your Certificate of Completion
To receive your certificate of completion, you will need to complete a short on-line post-test and receive a passing score of 70% or higher within 1 year of purchasing the course.
How do I convert CEUs to PDHs?
1.0 CEU = 10 PDHs [Example: 0.1 CEU = 1 PDH]