Life Cycle Assessment for Transportation Facilities (AWI062416)
CEU:0.2
On-Demand Webinar | Online
Product
On-Demand Webinar
Keyword(s)
Sustainability;Transportation
Description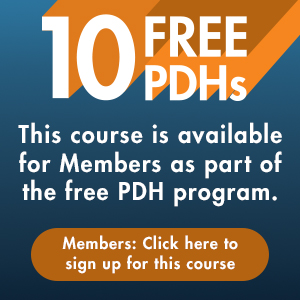 View Important System Requirements for viewing this course.
Sponsored by ASCE's Transportation & Development Institute Committee on Sustainability & Environment, Development Council and ASCE Continuing Education.
INSTRUCTORS:
John Harvey, Ph.D., P.E.
Alissa Kendall, Ph.D.
Course Length: 90 minutes
View all webinars related to Life-Cycle Assessment.
Purpose and Background
Life cycle assessment (LCA) is an approach for systematic and quantitative analysis, interpretation and reporting of impacts to the environment and human quality of life. Generic international standards for LCA are adapted and standardized for application to the specifics of transportation infrastructure and operations. Policy making agencies, including transportation agencies at the federal, state and local levels as well as the Green Building Council (LEED v4), are increasingly looking at LCA as a decision support approach that provides better quantitative information for environmental sustainability assessment.
This webinar provides an overview of LCA, details of recent developments in adapting it to pavement and other transportation infrastructure and operations, current resources, current gaps and expected trends.
Primary Topics of Discussion
Life cycle assessment overview
Recent developments in adapting LCA to pavement infrastructure, as well as other transportation infrastructure
Available resources
Gaps and expected trends
Learning Objectives
Upon completion of this course, you will be able to:

Discover what LCA is and how it works
Determine current standards and guidelines for transportation
Gain an understanding of gaps and future trends
Review several case studies
Recognize interaction of life cycle cost analysis (LCCA) and life cycle assessment (LCA)
Identify how to begin implementing "LCA thinking" into practice with few resources
Webinar Benefits
Understand brief history of LCA
Know the basic principles of life cycle assessment
Learn about international standards for LCA
Find out about latest developments of LCA for transportation infrastructure and operations in USA
Know gaps in LCA for transportation and how to get started with "LCA thinking" in practice as developments occur and more resources become available
Learn expected developments in LCA over next several years (what to be looking for)
Learn what an environmental product declaration (EPD) is and how that can be incorporated into materials and other specifications
Learn how to use LCA and LCCA to avoid costly policy changes that aren't warranted by their environmental benefit
Learn how to use LCA to identify negative unintended consequences of policies and decisions
Assessment of Learning Outcomes
Students' achievement of the learning outcomes will be assessed via a short post-assessment (true-false, multiple choice and fill in the blank questions).
Intended Audience
Civil engineers and other transportation professionals involved in deployment and operations of transportation infrastructure.
Webinar Outline
Brief history: why was LCA developed and what it is being used for
Overview of LCA basics

International standards
Transportation life cycles

Applications of LCA for transportation infrastructure projects
Applications of LCA for transportation operations, management and policy
Basics of Environmental Product Declarations
Current resources and gaps
How to get started on LCA with few resources (implementation of LCA thinking)
Integration of LCCA and LCA in decision making
Summary and expected future developments
Questions and Answers
How to Earn your CEUs/PDHs and Receive Your Certificate of Completion

To receive your certificate of completion, you will need to complete a short on-line post-test and receive a passing score of 70% or higher within 1 year of purchasing the course.
How do I convert CEUs to PDHs?
1.0 CEU = 10 PDHs [Example: 0.1 CEU = 1 PDH]